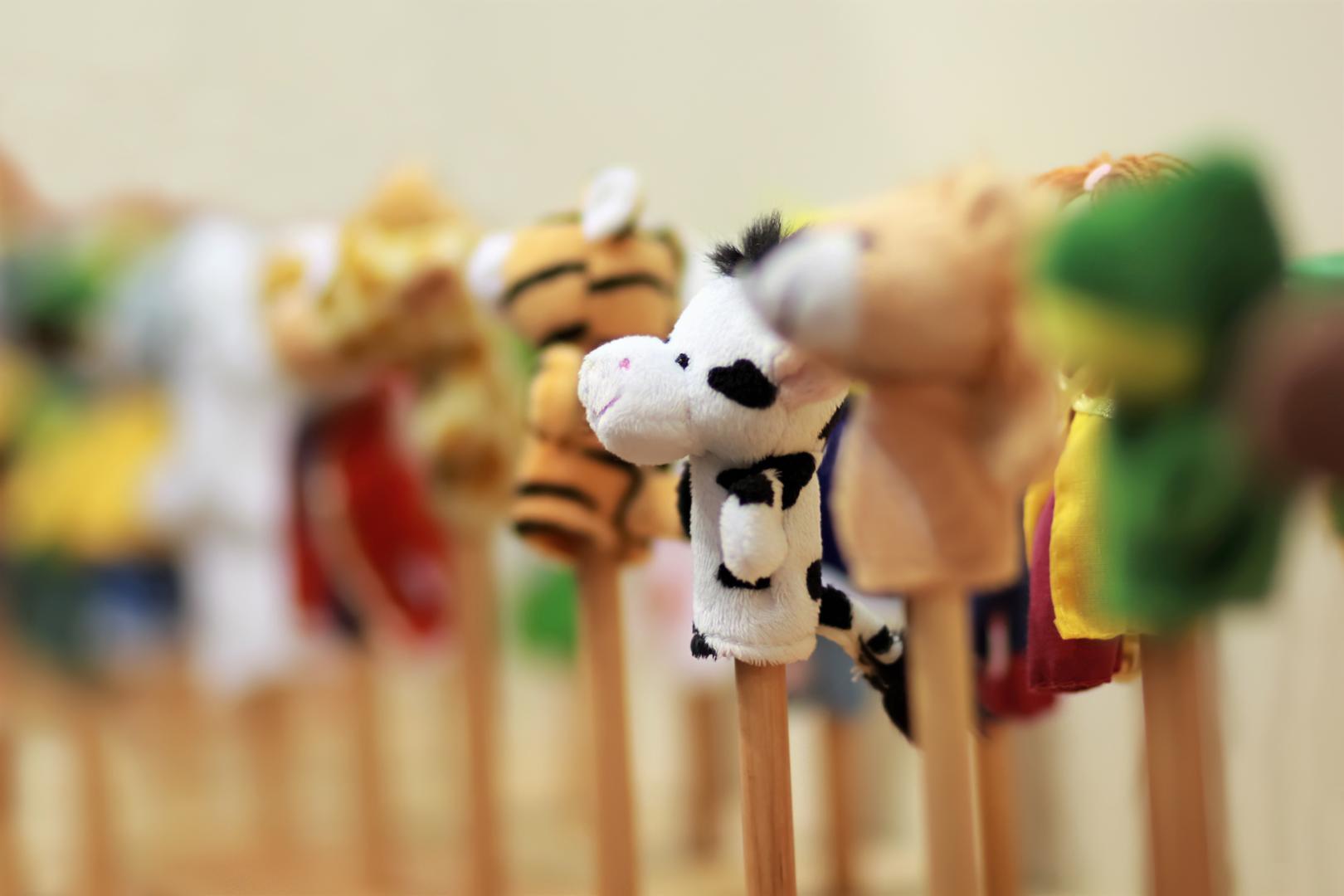 Have you ever seen a child at a puppet show? They are captivated with the concepts communicated through simple small characters. Children are inspired by puppets both intricate and simple, be it an animal or person character, the impact is undeniable. Children love puppets! Puppets allow children to learn and communicate in a safe, imaginative environment.
Valuable learning opportunities in many developmental areas take place during puppet play:
Stimulates imagination
Provides emotional development
Improves motor skills
Teaches etiquette
Boosts confidence in speaking and reading
Increases group participation
Puppets can help children develop language and communication. Often children find communicating intimidating and communicating behind a curtain or stage is a safe, open place for them to develop these skills. When a child is able to communicate through a puppet, sharing and opening up can be less scary for them. Puppets are a great means for role-play, wherein children can model and be modeled to, which helps develop their communication skills.
Puppets can also support social and emotional development. Puppets provide a sense of security that makes it easier for children to express thoughts and feelings that they might not feel comfortable sharing. Talking through a puppet allows children to explore feelings freely and reenact situations in a way that they are familiar with. For example, when children role-play a disagreement between friends, they are going to display the feelings and responses that they would feel if they were in the situation. The process also allows children to develop empathy for others. When children are encouraged to take the role of others, they learn to empathize. This is very important in helping them experience compassion and respect for the feelings of other people.
Compassion is also an important characteristic in the development of interpersonal intelligence, which is important in the learning process. Those who have strong interpersonal intelligence are good at understanding and interacting with other people and are able to assess the emotions, motivations, desires and intentions of those around them. Puppet play supports the opportunity to teach positive social interactions, problem solving and other social/emotional skills.
Activities You Can Do With Puppets
Practice scripts to perform in the way of a puppet play
Make your own puppets with paper bags or socks
Make Popsicle stick puppets
Create your own unique puppet
Construct your own puppet theatre - appliance boxes work really well
Start a collection of puppets and define the personality traits they will portray in different plays
Incorporating puppet play in to your childcare will benefit both you and your children. Enhancing their knowledge base makes interacting with children a smoother process. Puppet play is a cost-friendly, versatile way to entertain children for hours! If you need help embracing puppet play, please contact your Child Care Consultant here.
Tags: puppets , imagination , emotional development , motor skills , etiquette , social emotional development , compassion
« Back